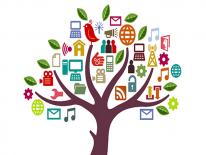 The Problem: Digital Divide
•Society is in the digital and information age – technology & digital information is the cornerstone of connected citizens lives.

•Everyday items such as watches, fridges and toothbrushes, are becoming data-rich smart devices that assist connected users with daily living task

•The pace at which technology is evolving is ever increasing – people with disabilities are often left on the sidelines in using tech as a natural supports to daily living in comparison to non-disabled peers

•By "Bridging the Gap", we have the chance to enhance people's power to act, promote self-determination, and have equal participation in society
The Divide By The Numbers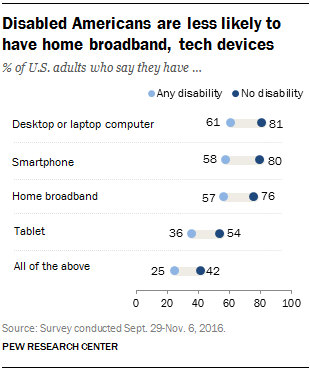 What is "Technology First"!?

"Technology First" (Tech First) is DDS commitment to expanding and diversifying the use of tech by people with disabilities-with the goal of promoting their ability to live independently as possible in their community, home, and workplace.

We are aiming to create a movement within our service delivery system where anytime we are exploring support options for a person to achieve a goal or promote independence that tech is always taken under consideration during person-centered planning.

Technology includes many things such as simple medication reminders or dispensing devices, personal assistants, apps, sensors on doors and windows, environmental controls or systems that enable individuals to communicate with remote staff by using phones or web-based technology.

Assistive Technology services available through the Developmental Disabilities Administration and Rehabilitation Services Administration as well as other community based programs in the District enables people who are eligible to discover and access tech to experience greater independence, security, and reduces reliance on direct supports.
In support of the Tech First Initiative, DDS launched a series of webinars from March 2021-August 2021. The web series goal is to increase the awareness of our stakeholders of the tech solutions that are being used to promote the independence of people with disabilities. The Webinars also aim to further stakeholders knowledge with planning and implementing technology.
On this page are the recordings of the webinars that have occurred to date.