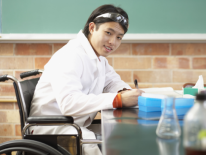 The Rehabilitation Services Administration (RSA) Youth in Transition Services Unit provides transition services, as defined by the Rehabilitation Act of 1973 amended, to coordinate a set of activities for students with disabilities, beginning at age 14, designed around an outcome-oriented process. These activities promote movement from school to post-school activities including post-secondary education, vocational training, integrated employment (including supported employment), continuing and adult education, and independent living.
Vocational Rehabilitation Transition Services
Vocational rehabilitation transition services link students with disabilities, while still in school, with the vocational rehabilitation program to create a continuum of services leading to long-term employment outcomes for eligible students. The benefits of (vocational rehabilitation) transition services include:
the decrease in gaps in services between education and employment,
the preparation and engagement of students/young adults in post-secondary training programs, and
focused plans for employment that result in earlier attainment of long-term employment goals.
RSA works collaboratively with the local public, public charter and non-public schools to ensure an uninterrupted plan of services for students from the secondary education environment to post-secondary education, training and employment.
Services include career and/or vocational guidance and counseling and further assessments (as deemed appropriate and based on school findings) including vocational, medical, psychological, and assistive technology. The development of the Individual Plan for Employment (IPE) is completed before the student's graduation or aging out of school.
Find out about our Eligibility and Intake Process.
Youth in Transition Program resources include: