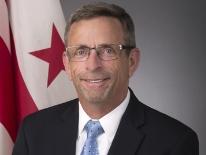 Andrew Reese was appointed Director of the Department on Disability Services (DDS) on September 2, 2016. A licensed clinical social worker and attorney admitted to the bar in the District of Columbia and Maryland, Mr. Reese previously served as the Deputy Director for the Rehabilitation Services Administration (RSA). In that role he was responsible for developing and directing a comprehensive program to assist people with disabilities in achieving self-sufficiency and independence by securing, maintaining and advancing in employment opportunities.
Mr. Reese joined DDS in 2011 as Deputy General Counsel and represented RSA on matters of legal sufficiency, development of regulations and policies, and negotiation of memoranda of understanding with other District agencies. He previously served as Deputy Attorney General for the Family Services Division of the Office of the Attorney General, responsible for the Domestic Violence, Mental Health and Child Protection Litigation sections. Mr. Reese has worked in both the public and non-profit sectors, serving ten years as a clinical instructor on the faculty of the Schools of Law and Social Work at the University of Maryland at Baltimore and operating a private practice in the District of Columbia, representing parents and acting as a guardian ad litem for children in the foster care system. While on the faculty of the University of Maryland, Mr. Reese also served as chairman of the AIDS Legislative Committee, a disability advocacy organization.
A life-long resident of the D.C. metropolitan area, Mr. Reese has published articles regarding the social welfare of women and children and ethical decision-making in the practice of clinical law. He earned his juris doctorate from the University of Maryland, Baltimore, School of Law; a master of social work from Howard University, and a bachelor of science in Family Studies from the University of Maryland, College Park. He and his family reside in Ward 4.