2020 marks the 75th anniversary of National Disability Employment Awareness Month (NDEAM). An initiative of the U.S. Department of Labor's Office of Disability Employment Policy, NDEAM celebrates workers with disabilities and reminds employers of the importance of inclusive hiring practices.

Samira Taylor
Keep Evolving

You Have a Voice
Thornell Moore
The Right Support Makes Change Possible

Alex
Volunteering Turns Passion into a Job

Alice T. Aguehounde
Customer Relations Specialist

Courtney Bowman
Support Services Specialist

Gabriel S.
Pursuing his dreams

Kevin Wright
Department on Disability Services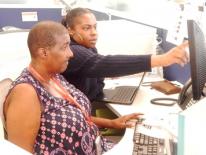 Deborah Gaither
You Can Get a Better Life
Tyrone Tibbs
Initiative and a Good Attitude Lead to Longevity
Charlene Bond
A Leap of Faith
Charlene Taylor
Attitude is Everything
Janel Grossinger
Employers and Employees Must Ask: What Do We Need to Do Differently?
Sam
Living His Best Life Now
Darren Barbour
Change Your Perspective, Change Your Life