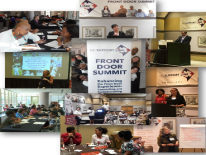 NWD Home | About | Understanding CLC | Newsletters | Feedback & Downloads | Reports
Welcome to No Wrong Door
DDS's No Wrong Door Initiative (also called DC Support Link) is a network of government and non-profit organizations focused on enhancing the front door experience for District residents in need of Long Term Services and Supports (LTSS) and their families. The front door experience begins with the first encounter between agency staff and a person seeking LTSS. The agencies involved are the Department on Disability Services, DC Office on Aging, Department of Behavioral Health, Department of Human Services and the Department of Health Care Finance.
No Wrong Door Mission & Vision
Detailed information about the No Wrong Door mission, vision, goals, objectives and outcomes.
Understanding Cultural and Linguistic Competency (CLC)
Learn how the Inter-Agency Cultural and Linguistic Concept works within the No Wrong Door Initiative.
NWD Newsletter
Check out our newsletters for recent informational, past stories and events.
No Wrong Door Feedback & Documents
Share your feedback on the NWD project and download our information documents.
No Wrong Door Annual Report
Download the latest version of the Semi-Annual Report to ACL on NWD.
Special Events
Take a look at photos from the latest No Wrong Door event.