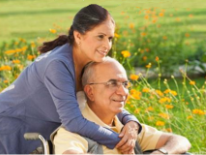 You can apply online for Social Security Disability benefits, you can file in person at your local Social Security office, or by calling (800) 772-1213.
To find your local Social Security office, click here and enter your home zip code. Locate a Social Security Office.
Before you begin your application, you should collect certain information regarding your medical treatment, work history and other facts. To view a checklist of the information that you will need, Disability Checklist.
When you are ready to apply for Social Security Disability Benefits, Apply for Disability. You will not have to complete the entire application in one sitting. You will have the option of saving your application and returning to it later.
You can also complete most of your application for SSI Disability benefits online, but to finish the application process you will have to visit a Social Security office. You can Apply for SSI to begin the SSI application process for yourself or for a child.
To apply Online:
Apply here: https://www.ssa.gov/apply
Social Security Field Offices:
To schedule an appointment to get assistance with completing the SSI forms, call:
Phone: (800) 772-1213
TTY: (800) 325-0778
Hours: 7 am to 7 pm, Monday to Friday
Local Social Security Administration Offices:
Social Security
1300 D ST SW
WASHINGTON, DC 20024-4289
Hours: Monday to Friday, 9 am to 3:30 pm

Social Security
2041 MLK JR Avenue SE, Suite 130
Washington, DC 20020
Hours: Monday to Friday, 9 am to 3:30 pm

Social Security
Postal Plaza Shopping Center
1905-B 9TH Street NE
Washington, DC 20018
Hours: Monday to Friday, 9 am to 3:30 pm
Office Hours:
Monday to Friday, 8:15 am to 4:45 pm
Service Location:
GIS Address:
2041 Martin Luther King Jr Avenue, SE