Some have a clear path of what they want to do for work, while others may need either tools, support, or just a spark to help them see want they want to do for work. These success stories show actual people with disabilities and their story of how they end up living a good life through employment. This section showcasing DC self-advocates' accomplishments that led towards the life they wanted to live; including examples of the tools they used to get there.
Thornell Moore
The Right Support Makes Change Possible

Alex
Volunteering Turns Passion into a Job

Alice T. Aguehounde
Customer Relations Specialist

Courtney Bowman
Support Services Specialist

Gabriel S.
Pursuing his dreams

Kevin Wright
Department on Disability Services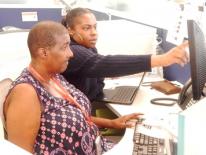 Deborah Gaither
You Can Get a Better Life
Tyrone Tibbs
Initiative and a Good Attitude Lead to Longevity
Charlene Bond
A Leap of Faith
Charlene Taylor
Attitude is Everything
Janel Grossinger
Employers and Employees Must Ask: What Do We Need to Do Differently?
Sam
Living His Best Life Now
Darren Barbour
Change Your Perspective, Change Your Life