People with disabilities are people just like you—people who have hopes, dreams, and goals to achieve. Below are stories of individuals who recognize that their disability is only one part of who they are, and they are making a meaningful difference in their communities, families, and places of employment.

Alice T. Aguehounde
Customer Relations Specialist

Courtney Bowman
Support Services Specialist

Gabriel S.
Pursuing his dreams

Kevin Wright
Department on Disability Services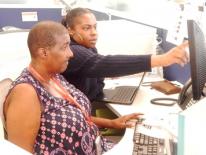 Deborah Gaither
You Can Get a Better Life
Tyrone Tibbs
Initiative and a Good Attitude Lead to Longevity
Charlene Bond
A Leap of Faith
Charlene Taylor
Attitude is Everything
Janel Grossinger
Employers and Employees Must Ask: What Do We Need to Do Differently?
Sam
Living His Best Life Now
Darren Barbour
Change Your Perspective, Change Your Life