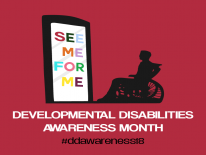 Last Date:
Location:
250 E Street S.W. Washington, DC 20024
Details:
In 1987, President Ronald Reagan made a public proclamation that the month of March should be recognized as Developmental Disabilities Awareness Month to "increase public awareness of the needs and potential of Americans with developmental disabilities." The National Association of Councils on Developmental Disabilities (NACDD), the Association of University Centers on Disabilities (AUCD) and the National Disability Rights Network (NDRN) combine their skills and talents to create a public campaign that:
raises awareness about developmental disabilities,
teaches the importance of inclusion within every aspect of life, and
highlights the stories of people with disabilities making meaningful impacts in the families, communities, and places of employment.
This year's theme is See Me for Me! It is a call to action that challenges people without disabilities to look beyond someone's disability to see them as a person and not just a person with a disability.
The Department on Disability Services will celebrate Developmental Disabilities Awareness Month on Tuesday, March 20, 4 – 6 pm. For information, contact Program Development Specialist Gregory Banks at [email protected] You can learn more about Developmental Disabilities Awareness Month at https://nacdd.org/ddam/.