Monday, September 8, 2014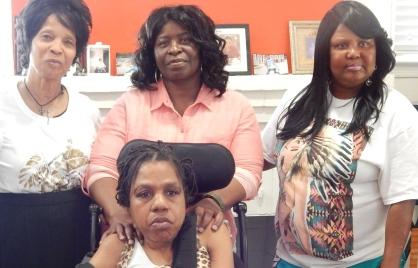 When you enter the southeast home of RCM of Washington, the first thing you will notice is a positive, welcoming energy. People in the main living area have bright smiles and there's lots of enthusiasm for the residents therein. The atmosphere of love and happiness is created, in part, by Direct Support Professionals Marie Chambers, Hattie McNair, and Gladys Riggs. The combined experience of this trio is approximately 40 years. Marie has been with RCM since 1993. She comes from a family of nurses and recalls her mom's best friend being mistreated while living in a nursing home. "My mother told me that if I entered this line of work, I had to make sure that the people were treated right." And that's exactly what she does.
Six individuals with intellectual and developmental disabilities live at the RCM home, most use wheelchairs. Marie, Gladys, and Hattie assist the ladies with almost every personal need—combing hair, brushing teeth, assisting with meals and hygiene routines. They also work with the ladies on cognitive skills, using flash cards and puzzles to expand their language skills and social interaction. Gladys is quick to state that she does not like her job—she LOVES it! She has been a DSP for seven years, four years with her two colleagues at RCM. Gladys became interested in the career field by observing staff that assisted her cousin, who has Down Syndrome. "It was something I always wanted to do. I love helping people with intellectual disabilities." Gladys also acts as the social activities coordinator for the house, arranging theater outings and vacation getaways. One of the residents' favorite spots is Great Wolf Lodge.
Hattie learned about direct support work from a member of her church. With RCM 16 years, she and Marie have seen a lot of changes and movement. She views her work as a wonderful experience. "The ladies we work with watch us, they see and understand what we say and what we do. It's marvelous to see them grow—everyday they do something positive."
This dynamic trio shares the sentiment that the ladies they support make a positive impact on their lives too. Said Marie, "I may come to work sad or downhearted, but when I walk through the door, and their faces light up because they are happy to see me, it's the best feeling in the world." When asked what advice they would give to people without disabilities about interacting with people who have disabilities, the DSPs were quick to point out that people with disabilities are smart, they understand what others say and do, they feel just like other people do. Gladys summed it succinctly: Don't look down on them, don't judge them, just help.