My Life, My Way
Video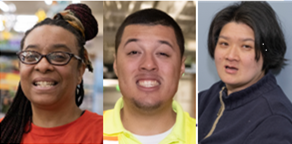 The Department on Disability Services is committed to providing high-quality services that enable people with disabilities to lead meaningful and productive lives as vital members of their communities. The Developmental Disabilities Administration (DDA) implemented My Life, My Way to give residents with intellectual and developmental disabilities (IDD) more control and flexibility over the services and supports they may receive while living in their natural homes.
How Does It Work? Participants in this self-directed initiative are the employers of their staff or Participant-Directed Workers (PDW). They or their designee hire, train, and evaluate the employees who will help them live life their way. If a PDW is not meeting their needs, a new PDW can be selected.
Who can Participate? Residents with IDD who are 18 years of age are eligible for My Life, My Way. Participants must: live in their natural home, be eligible to receive Medicaid, and be enrolled in the Individual and Family Support (IFS) wavier.
What Services are Included?
• In-Home Supports
• Daily Respite Services
• Individualized Day Supports (IDS)
• Individual-Directed Goods & Services (IDGS) Limited to $2,500)
• Companion Services
Who Can be hired as a Participant-Directed Worker (PDW)?
Friends, family members, or a person who is new can serve as a PDW. People who have legal responsibility for a person with IDD cannot be their PDW. Designated legal guardians, spouses, and parents of a minor child cannot be hired as a PDW. All PDWs must:
• Be at least 18 years of age.
• Pass a background check.
• Be authorized to work in the U.S.
• Complete Required Training.
• Be certified or able to obtain CPR & First-Aid certification.
• Have a valid driver's license and proof of insurance.
• Sign Medicaid agreement.
• Meet any additional waiver requirements.
How do I Enroll? If you are currently receiving services from DDA, please contact your Service Coordinator for assistance with enrolling. If you are interested in receiving services, please call 202-730-1700 and ask to speak to a DDS Community Liaison Specialist. See attached flyer for more information.