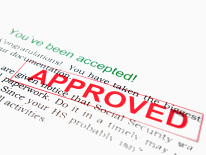 The Intake and Eligibility Determination Unit (IEDU) is responsible for receiving and processing applications and determining eligibility for people who apply for DDA services.
To apply for DDA eligibility, a completed Intake application is required (see requirements for a completed application below). Each person must complete an application, the application is available online and can be submitted electronically or it may be mailed to: 250 E Street SW, IEID - 1st floor, Washington, DC 20024. Once an application is received, an Intake and Eligibility Coordinator is assigned to assist the person through the remainder of the eligibility determination process.
The Eligibility Requirements for DDA and the types of supporting documentation required for a completed application are as follows:
Proof of District residency; [For example: a current lease agreement, a current utility bill, or a statement from Social Security with the address. Cell phone or telephone bills will not be accepted as proof of residency]
An intellectual disability indicated by an IQ score of 69 or below, diagnosed before the age of 18 years, including impairments in cognitive and adaptive functioning that continue into adulthood;
Concurrent deficits in at least two areas of adaptive functioning.
The complete application package must include the following documentation:
Copy of the person's birth certificate.
Copy of the Social Security card.
Copy of proof of health insurance (DC Medicaid or private coverage), if applicable.
Documentation that verifies the diagnosis of an intellectual disability prior to the age of 18 occurred, this includes school records/transcripts, medical records, or social history, if available.
A psychological evaluation, based on one or more standardized tests, that documents significantly sub-average general intellectual functioning Intelligence Quotient ("IQ") score of 69 or below, formal assessment of adaptive behavior or other supporting documentation of adaptive behavior deficits or developmental delays manifested before the age of 18 years, indicating that impairments in cognitive adaptive functioning continue into adulthood;
As applicable, a psychological and/or psychiatric evaluations that document any diagnosed psychiatric condition.
A medical evaluation, current within the last 12 months.
A signed Release of Information form.
The following DDS applications and forms are available:
Office Hours:
Monday to Friday, 8:15 am to 4:45 pm